Indeed there are so many players in the NFL who have been doing so well in the league and some of which the players have achieved great things. Although there are a plethora of good players to choose from, we have summed up only the best ones that made it to our list. 
So Today we look at the top 6 Offensive Linemen in the NFL.
1. Trent Williams, San Francisco 49ers
Williams is without a doubt the best offensive lineman in the league, and watching his tape is pure joy if you are a fan of line play. He is saluted by Hall of Fame offensive linemen. The 33-year-old left tackle was essential in the majority of the 49ers' edge-breaking rushes, making their rushing assault one of the most formidable in the league. Williams is a powerful pass defender as well. In his career, he has seldom given up a sack, and in 2021, he gave up merely 16 total pressures outside of 508 pass-blocking chances.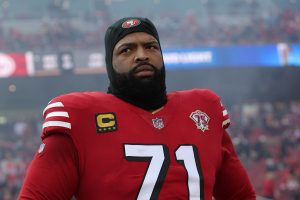 This is the very reason why we have put Williams on a well-deserved top spot of our list. 
 2. Tyron Smith, Dallas Cowboys
On the second spot, we have Tyron Smith. He was the key factor in why the Cowboys have been the only offense to finish in the top 10 in passing and rushing yards in 2021.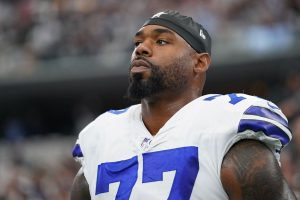 Smith can still get the opponent off the line of scrimmage, despite not being as agile as he once was. The long-armed space-eater only allowed 11 pressures in 460 dropbacks last season.
 3. Tristan Wirfs, Tampa Bay Buccaneers
In 2020, the Buccaneers' right tackle made his debut. In 2021, the former Hawkeye from Iowa performed even better and was able to play solid, reliable football. Even when injured, Wirfs continues to compete without missing a beat.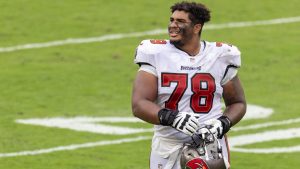 That not only reveals much about his character but also communicates to his colleagues and management. Wirfs glides laterally with bounce and strives to complete every block with exceptional athleticism for a man of his size.
 4. Rashawn Slater, Los Angeles Chargers
Tom Telesco, the general manager of the Chargers, looked like a genius after selecting Slater from Northwestern with the 13th overall choice in the 2021 NFL Draft. Slater will forever be compared to Penei Sewell, who the Detroit Lions selected seventh overall, but Slater started off hot in 2021 and transformed a team weakness into an asset.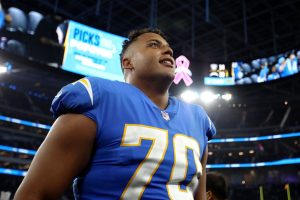 Slater was known as a proficient pass blocker coming out of college, but his capacity to ascend to the second level and seal linebackers will free up the Chargers' offense for many years to come.
 5. Jordan Mailata, Philadelphia Eagles
The former rugby behemoth, who spent the most of his first two NFL seasons on the injured reserve or inactive list, has mastered the sport and emerged as one of its crown jewels.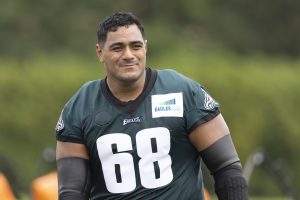 Mailata shuts out the light with his enormous stature (6'8″, 365 pounds), much like he blocks out opponents. Mailata prevails once he puts his powerful hands on the pass rusher. Due to his inherent strength and power, Mailata can maintain his position even if he loses his skill.
 6. La'el Collins, Cincinnati Bengals
After enabling opponents to consistently punish quarterback Joe Burrow during the playoffs, the Bengals needed help from the offensive line. Collins proved to be a more than adequate guardian.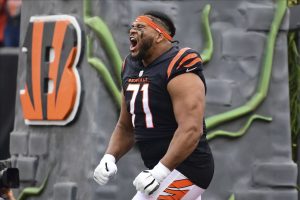 Although the former LSU blocker only appeared in 10 games for the Cowboys in 2021, he led the team to the third-best passing game and ninth-best rushing assault in the NFL by allowing just two sacks.