Kickers play a crucial role in the game of football (Rugby), especially when it comes to a tournament like NFL. In this article, we are going to discuss some of the Greatest Kickers in the NFL Hall of Fame that you need to know. These players have been serving their respective teams for a longer period. They hold tons of records while playing with their teams. 
(Note: Statistics are for regular-season games only unless specified.) 
1. Gary Anderson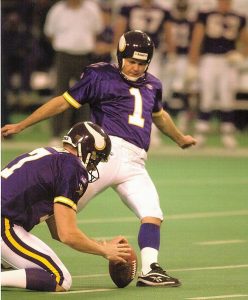 Gary Anderson is a famous name in the world of NFL. He still holds the record to become the first player to achieve 100% conversion rate in a season. He scored 35 out of 35 field goals and 59 out of 59 extra points. Garry earns a bronze bust in the Pro Football Hall of Fame. However, one extraordinary gash on his record has blurred an otherwise outstanding career.
This South African kicker is considered as one the best NFL kickers of all time. He wore the one-bar facemask, best known for his tenure in Minnesota. Also, being a part of the Minnesota, Anderson in 1998 offense that set a record, at the time, for points scored (556) in a season. Currently, he is 46 years old. 
2. Stephen Gostkowski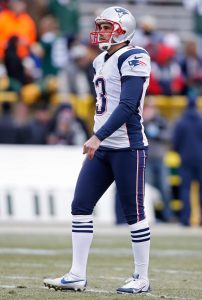 As a free agent at 37, Stephen Gostkowski experienced the peak of his career while playing for the New England Patriots. He joined New England as a fourth-round draft pick in 2006. Then, he went on to set several franchise and NFL records. Among them, he became just the second player in NFL history to score 500 points in his first four seasons. And, the first to score 1,000 points in his first eight.
In 2014, Stephen surpassed Adam Vinatieri as the Patriots' all-time leading scorer. Soon, he finished his career in New England with 1,775 points. With 479 consecutive extra points (523 including the postseason), he set an NFL record. The streak concluded in the 2015 AFC Championship Game. The game was held against the Denver Broncos. It marked the second missed extra-point attempt of Stephen's career at the time.
3. Justin Tucker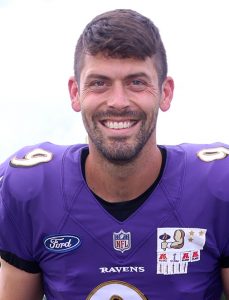 Justin Tucker is one of the best kickers of all time. He had a mind-blowing accuracy during his 9-year span in the NFL league. So far, he's on pace to become the most dependable kicker. Tucker has displayed incredible longevity. Since signing with Baltimore in 2012, he has hit, at worst, 82.5% of his field-goal tries in one season. And, has missed just four of his 375 extra-point attempts.
4. Morten Andersen (New Orleans Saints)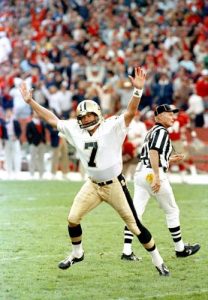 In his 25-year-long NFL career, Morten Andersen played in a total of 382 games. He played the majority of his career for Atlanta Falcons and the New Orleans Saints. Being the only kicker in the NFL points scored list, he was inducted into the Pro Football Hall of Fame. Currently, he's the second on the NFL all-time scoring list. 
5. Adam Vinatieri (Indianapolis Colts)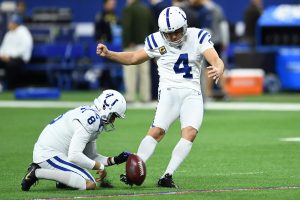 Playing a total of 365+ games in 24 years in the NFL, Adam Vinatieri was the only kicker to win multiple super bowls. He won a Super Bowl with two different teams. Adam played for just 2 teams – 14 years with the Colts and 10 years with the Patriots. 
6. Lou Groza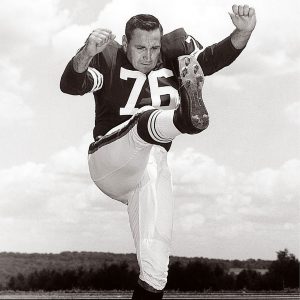 Lou Groza's career was a revolutionary one. He completely revolutionized the kicking game. Being the first kicker to be considered a threat to put points, he was on the board from 40-50 yards out. The Hall of Famer raised the bar for kickers. As of 2022, the Lou Groza Award is given to college football's top placekicker.